The Problem
Windows 7 is out and it is great. It is much less annoying compared to Vista. It also has some very attractive features to geeks like me. I am completely sold on Windows 7 and moving over from tried and true Windows XP.
My favorite feature of Windows 7 so far is its software RAID. It is available in the Professional edition and above. Software RAID was available in the past versions, but in the Enterprise, not the Professional editions of Windows.
There are couple of usability issues around configuring software RAID and dynamic disks on Windows 7. These caused me some pain and I want to share the solutions with you.
The Solution
In order to configure the software RAID on Windows 7, open the Windows Explorer, right mouse click on the My Computer and select Manage. When Computer Management console opens, navigate to the Disk Management. Now you should see all the physical disks available on your system, their partitions and logical drives.
Configuring RAID starts by creating the dynamic disks, adding volumes, adding mirrors and so on. The challenge is to find the right menus where these actions are available.
Windows 7 Disk Menu
If you right click on the Disk area (as shows in orange below) you will enter Disk Menu. Here you can find actions to create new spanned volume, stripped volume, mirrored volume. Here you can also convert physical disk to dynamic disk or GPT disk or to take disk offline.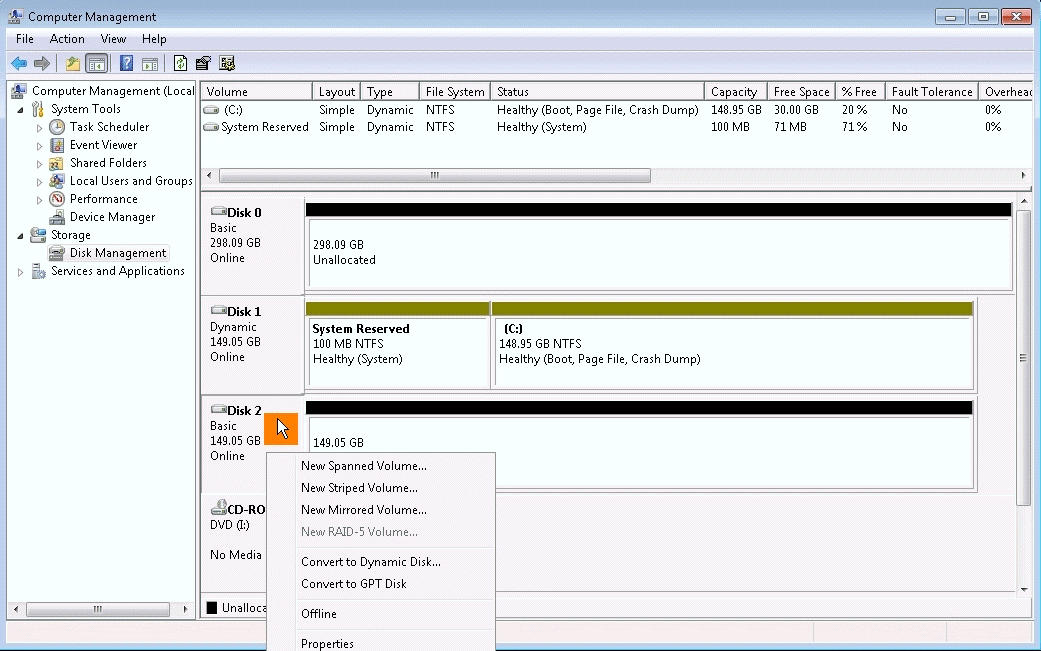 Windows 7 Partition Menu
If you right click to the left from the disk area on the partition area of the empty disk (as shows in orange below) you will enter Partition Menu. Here you can create different types of volumes spanning the entire partition or just a part of it. You can create new simple volume, spanned volume, stripped volume or mirrored volume. Note that there are no actions here to convert to dynamic or to GPT disk. These are only available in the Disk Menu as described above.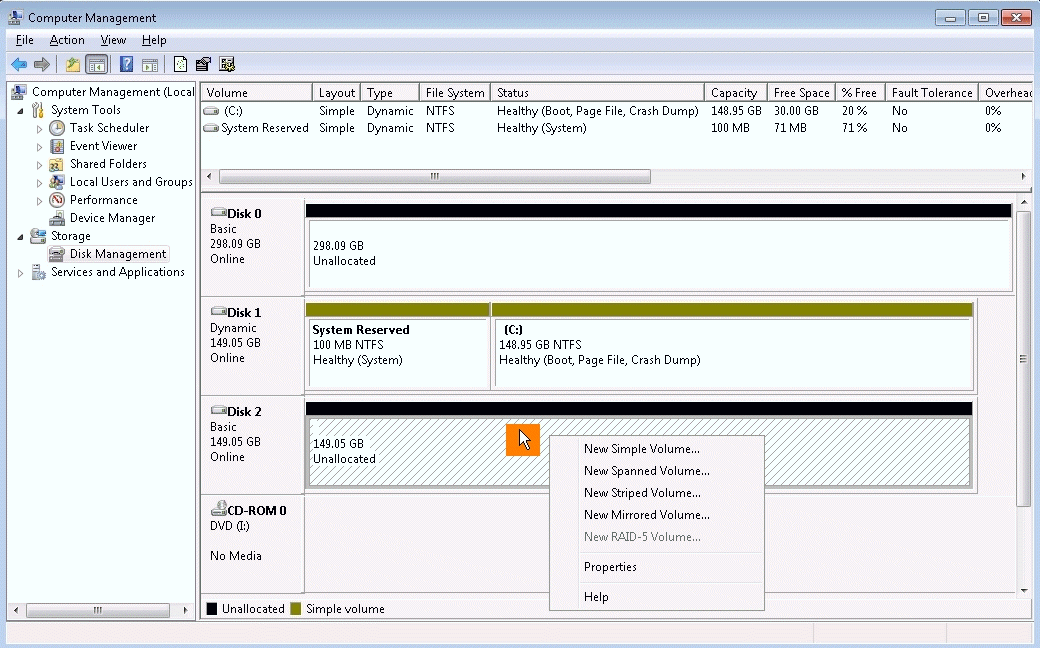 Windows 7 Volume Menu
If you right click to the left from the disk area on the existing volume (as shows in orange below) you will enter Volume Menu. Here you manipulate the volume. You can extend volume, shrink volume, add mirror, change drive letter, format or delete volume.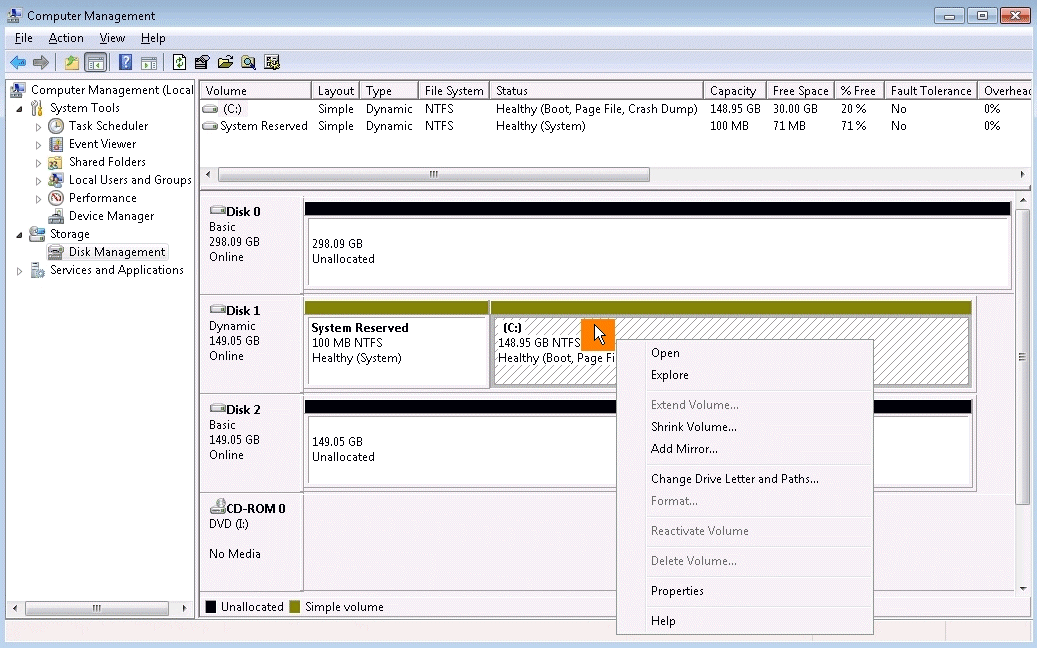 The Final Word
Now you aware of all the menus you need to know to configure Windows 7 software RAID. Hopefully, you will not be lost when reading Windows software RAID articles elsewhere.
Windows 7 software RAID available in the Professional edition is a major win for geeks like me. Originally I was planning to get one of those NAS devices that have hardware RAID and are attached to the LAN. But this was before I knew the software RAID.
When you use hardware RAID on NAS device or in the computer, you risk loosing data if NAS device or the hardware RAID card blows up. If replacement device of the same make and model is not available, you are like not being able to restore the RAID volumes.
With Windows 7 software RAID the story is different. If your box goes, you just get another box, install Windows 7 and pop in your disk into it. Should work just fine... Will report how it goes if I ever have to try it...